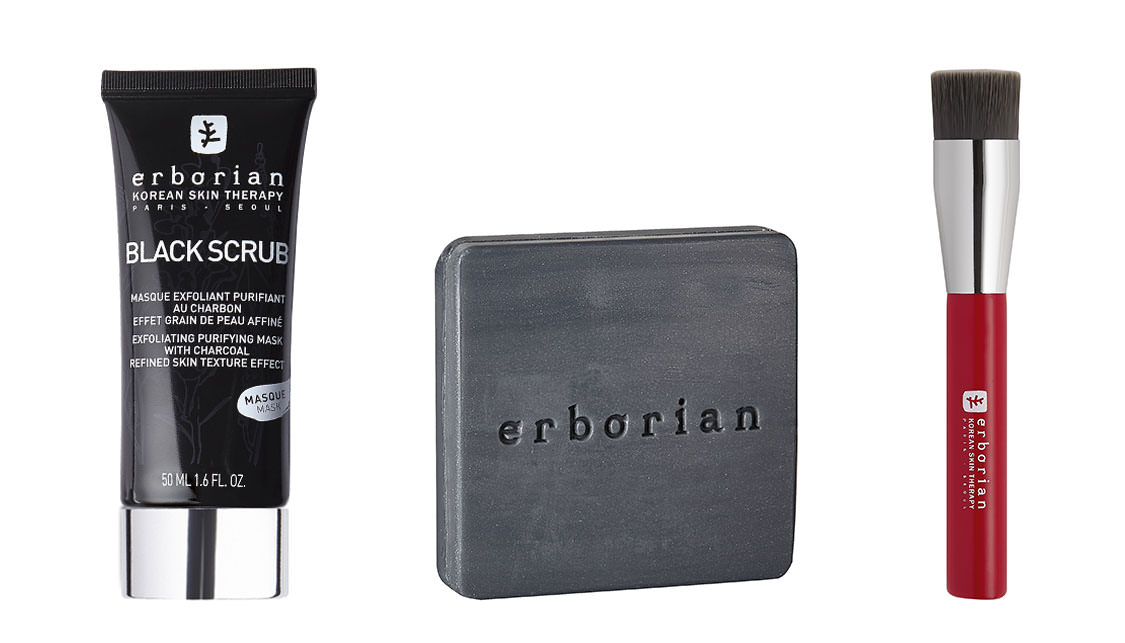 Korean brand Erborian is famous for producing natural cosmetics. In its offer they have, among others, soap and peeling with active charcoal. This ingredient is recognized as deeply cleansing and mattifying.
Find out how Black Soap and Black Scrub by Erborian work.
Black Soap and Black Scrub – action | Both cosmetics are recommended for every skin type care. They work gently, removing all impurities from skin surface. Also, they remove dead epidermis, unclog skin pores, reduce the excess of sebum and counteract acne. Both cosmetics mattify skin for a very long time and help make-up stay on the face longer. Erborian peeling smooths skin, highlights discolorations and reduces visibility of fine lines. Additionally, its action can be compared to the action delivered by intensively cleansing face masks.
Black Soap and Black Scrub – application | Erborian soap has to be applied to damp skin. Then, the face has to be massaged using circular motions until foam forms. And how to use Erborian peeling? Spread the cosmetic on the face and let it sit for more or less 3 minutes. Next, use gentle motions to massage the product into the face and then rinse with lukewarm water. Use the product once or twice a week.
Black Soap and Black Scrub – ingredients | In Eborian peeling there is cleansing charcoal, the composition of seven herbs, natural cellulose and substance responsible for balancing pH of skin. When it comes to Eborian soap, it contains moisturising glycerine, smoothing Shea butter, the set of seven herbs, impurities removing charcoal and anti-oxygenating tocopherols.
Black Soap and Black Scrub – useful information | You can buy Erborian Black Soap and Black on the Internet and in big drug stores. The capacity of the peeling's tube is 50 ml and the weight of the soap equals 75 gram. The products can be distinguished by black packages, green stripe and the very characteristic logo of the brand.